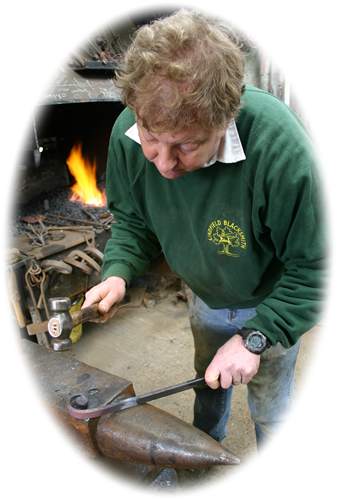 R J W Bradshaw Ltd, Blacksmith of Lindfield
Working with iron on the forge can be more art than effort and the Blacksmith of Lindfield turns the most mundane objects into art forms. Whether he is forging something as simple as a rustic door hinge or creating a complex head piece to finish an ornate gate, the same skill and dedication is used to ensure the forging is of the highest decorative quality and durability.
The Blacksmith of Lindfield has received the highest honour from the trade for his work and is well respected as an artisan of the forge.
Located in West Sussex, evidence of his work can be seen across the area, from something as mundane as ornate litter bins commissioned by the local borough to huge wrought iron gates forming the boundaries to stately homes.
Working in Metal
While most of the Blacksmith of Lindfields work is with wrought iron, he is also adept at using other metals for fine work, like the forming of flower petals from beaten copper.
The subtlety of his fine work is breathtaking and adds that special something to a simple gate or everyday objects from bookends to candle scrolls.
Quote Me
Please call or email us for a quote on your wrought iron requirements so you will know exactly what your item will cost before we start or you can commission the Blacksmith of Lindfield to have carte blanche and ensure that every aspect of your property will be the admiration of your friends.