Welcome to R J W Bradshaw Ltd, Blacksmith of Lindfield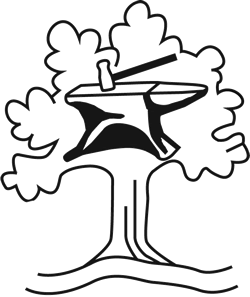 At the Blacksmith of Lindfield we believe that the quality and originality of our work speaks for itself and whether it is a simple hinge or a complex gate, the same effort and dedication is used to ensure the highest decorative quality.
Working with wrought iron is more art than effort and our commissions speaks for themselves with the variety and uniqueness of the objects produced, just check the Portfolio of our works to see how our unique iron work could work for you.
Concentrating on, but not limited to his local area of Sussex, the Blacksmith of Lindfields commissions include work for many of the major houses around Lindfield, as well as personalised wrought iron work for local properties, from scrolled car port support brackets to ornate gates for entrance ways and gardens.
The Blacksmith of Lindfield works closely with you to define the perfect wrought iron object to fit your needs, combining the rugged strength of the iron with his own unique skills to produce a work of art to closely match your ideals.

Based near Haywards Heath, the Blacksmith of Lindfield is centrally placed to cover the South Eastern corner of Britain and is happy to undertake projects in East and West Sussex as well as the surrounding counties of Surrey, Hampshire, Kent and London and the rest of the South East.
Many of the gates and railings around Haywards Heath have been built and erected by the Blacksmith of Lindfield and a quiet drive around this beautiful part of the country will showcase much of his work.
Then diversity of our work can be seen in our Portfolio and includes a wide array of wrought iron works including:
The Lindfield Blacksmith can solve all your wrought iron needs, from restoration of an aging iron work to the fabrication of that eye catching set of gates to set off the front of your property. Just call us on 01444 484057, or email us at info@lindfieldblacksmith.co.uk. for your no obligation quote.